Readers share fear of street gang violence
Oct. 13, 2016 Street Gangs Part 2, Des Plaines Valley News, SW News-Herald, The Regional, The Reporter
By Ray Hanania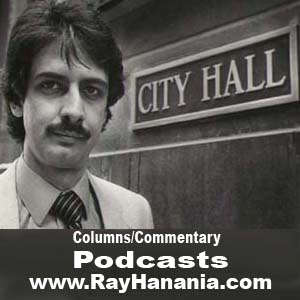 Last week I wrote about how most violence in Chicagoland is the result of street gangs, but we're not doing a good job stopping it.
We should treat street gangs as terrorist organizations, stripping them of their rights. Stop them. Frisk them. Throw them in jail, before they kill another child.
I won't pass the buck and blame it all on Mayor Rahm Emanuel, or even the Chicago Police. We're all responsible, including and especially the parents of street gang members.
Most police are doing the best job they can. Mayor Emanuel has vowed to put 1,000 more police on the streets. I think it's a good idea. But even with more police, we can't stop street gangs from killing people by waiting for them to break the law and then responding.
We need to be pro-active. We're dealing with dead children and communities living in utter fear.
I asked readers who live in areas where killings have occurred in Chicago and the suburbs to share their experiences, and offer ideas on what can be done.
So many people are living day-to-day in fear their children might be killed by street gangs. It's not an exaggeration. Imagine. Hearing gunshots everyday is not that unusual to many people.
Click here to listen to the podcast of this column or use the widget below:
One woman in the Back of the Yards neighborhood wrote:
"Gang-related shootings are so common where I live that when I hear the gunshots I can usually pinpoint the exact block if not the approximate address," she shared.
"Clearly street gangs are domestic terrorist organizations, but I'm afraid we are on a slippery slope if we start designating them as terrorists. The number of cold cases related to fatal gang shootings is way too high. Certainly arresting more shooters would make a big difference, and that would involve surveillance of known gang hot spots."
Part of the problem, though, is the community doesn't have faith in the police, she said. Many don't believe police respond fast enough. And, if they complain, the gangs will find out who they are.
"Where I live people are afraid to be seen talking to police. I can certainly understand that, having had my own problems with our local gang. The police seem unable to do much to protect those who have problems with gangs. Often people in this situation have to seek out the gang leaders and ask for the harassment to stop," she explained.
"Most of my neighbors seem to feel that calling the police is worse than useless. One woman called regarding gang graffiti and the police officer switched the topic to the upkeep of her home. The running joke around here is that the police are too busy hunting down notorious women in their 50s because of the numerous stops of older women."
She said residents know where the street gangs hangout and who they are, but complaining doesn't achieve much.
"There is a particular area nearby about which I have complained innumerable times. There have been many shootings near that spot recently, including a girl of 17, but I see little has been done about that spot. It continues to be a gang hangout and people are still afraid to walk down that block."
She added, and I agree, "gang shootings have increased a lot since Governor Rauner defunded Ceasefire and other similar initiatives."
I have more responses I will share in future columns and post on my website at www.RayHanania.com. There are just too many. If you live in an area plagued by street gangs and violence, tell me about it so I can share it. The public needs to hear these stories.
Too often we only listen to the activists, the police and the politicians. Sometimes, we need to hear it directly from you.
(Ray Hanania is an award winning former Chicago City Hall reporter and columnist. Email him at [email protected].)

Ray Hanania is senior blogger for the Illinois News Network news site. He is an award winning former Chicago City Hall political reporter and columnist who covered the beat from 1976 through 1992 (From Mayor Daley to Mayor Daley). And, Hanania is a stubborn and loud critic of the biased mainstream American news media.

Hanania covered Chicago political beats including Chicago City Hall while at the Daily Southtown Newspapers (1976-1985) and later for the Chicago Sun-Times (1985-1992). He published The Villager Community Newspapers covering 12 Southwest suburban regions (1993-1997). Hanania also hosted live political news radio talkshows on WLS AM (1980 - 1991), and also on WBBM FM, WLUP FM, WSBC AM in Chicago, and WNZK AM in Detroit.

The recipient of four (4) Chicago Headline Club "Peter Lisagor Awards" for Column writing. In November 2006, Hanania was named "Best Ethnic American Columnist" by the New American Media;In 2009, he received the prestigious Sigma Delta Chi Award for Writing from the Society of Professional Journalists. Hananiaalso received two (2) Chicago Stick-o-Type awards from the Chicago Newspaper Guild, and in 1990 was nominated by the Chicago Sun-Times for a Pulitzer Prize for his four-part series on the Palestinian Intifada.

Hanania writes columns for the Southwest Community Newspaper Group including the Des Plaines Valley News, the Southwest News-Herald, the Regional News and the Reporter Newspapers.

Latest posts by RayHananiaINN (see all)