Term Limits deny voters their rights. But Term Limits may soon see a casualty in the demise of the failed administration of Gov. Bruce Rauner in November 2018
By Ray Hanania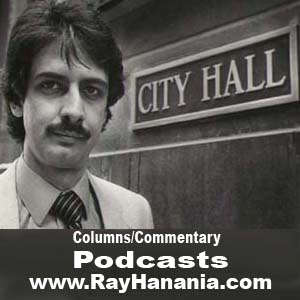 Every time a failed politician or a failed group of activists don't get their way, they stamp their feet and whine like little babies that they want to impose "term limits."
"Term limits" basically takes away the right of each individual voter to choose their government representatives at the ballot box through voting.
Why would anyone do that? Because many times, voters really like some politicians and return them to office over, and over and over again. That upsets the losers who get so frustrated because they can't seem to get enough votes to win anything.
If they just had "term limits," losers might be elected to office. In our system of Democracy where voters decide their destiny and representation, "term limits" is a strategy for losers.
The latest to embrace "term limits" is TurnAround Illinois Inc., one of those secret, big-money political action committees that doesn't have to disclose where it gets all its money.
Click here to listen to the podcast, or use the widget below:
Super PACs, or "Independent Expenditure Committees" according to the Illinois Election Code, may raise unlimited sums of money from corporations, unions, associations and individuals, then spend unlimited sums to overtly advocate for or against political candidates or issues.
The only difference is that Super PACs are prohibited from donating money directly to political candidates.
What is not a secret, though, is that TurnAround Illinois is controlled by Gov. Bruce Rauner, who is fumbling his way through Springfield. The sole purpose of the Super PAC, according to the watchdog group IllinoisSunshine.org, is "To support state legislative candidates who support Gov. Rauner's bold and needed reforms, and to oppose those who stand in the way."
Turnaround Illinois has more than $2.2 million in its war chest, while Rauner has more than $15 million in his. Super PACs can support stupid ideas and the failed agendas of weak politicians without being accountable to anyone.
Advocating "term limits" is a sign of political weakness. And no politician in Illinois these days is weaker than Rauner, who thinks filing lawsuits against columnists who challenge his views, his puppet candidates and his agenda, doesn't violate the First Amendment of the U.S. Constitution which protects Free Speech and a Free Press.
Rauner was elected to office in November 2014 because his Democratic opponent, Pat Quinn, was a poor candidate. At one time in his life, Quinn was a popular outsider. But once he finally made it to the big time, he started acting like an insider.
The voters saw that and decided to give Rauner a chance to do what Quinn failed to do.
But Rauner isn't much better. Rauner is blaming his failings on Illinois House Speaker Michael J. Madigan, who is one of the state's brightest politicians.
Rauner is incapable of implementing his bad ideas because Madigan and Illinois Senate President John Cullerton, another great elected leader, won't allow Rauner to destroy this state.
Instead of proposing good ideas for Illinois, Rauner has turned his agenda into another failed Republican grab for power.
I've only met Rauner twice, but I have known Madigan and Cullerton for more than 40 years, meeting both of them when they first entered politics when I was a reporter covering Chicago City Hall and Illinois politics.
The only "term limits" we need are the term limits that the voters will cast in the upcoming elections.
It is the right of every voter to decide who they want to represent them in Springfield.
Voters don't need a failed governor to take that choice away from them. And they won't need "term limits" to tell Rauner to take a hike when his re-election comes up in November 2018.
What we do need are laws to force Rauner to show us who really is funding his and other Super PACs.
(Ray Hanania is an award winning former Chicago City Hall reporter and political columnist. Email him at [email protected].)
For info on TurnAround Illinois Inc., click this link.

Ray Hanania is senior blogger for the Illinois News Network news site. He is an award winning former Chicago City Hall political reporter and columnist who covered the beat from 1976 through 1992 (From Mayor Daley to Mayor Daley). And, Hanania is a stubborn and loud critic of the biased mainstream American news media.

Hanania covered Chicago political beats including Chicago City Hall while at the Daily Southtown Newspapers (1976-1985) and later for the Chicago Sun-Times (1985-1992). He published The Villager Community Newspapers covering 12 Southwest suburban regions (1993-1997). Hanania also hosted live political news radio talkshows on WLS AM (1980 - 1991), and also on WBBM FM, WLUP FM, WSBC AM in Chicago, and WNZK AM in Detroit.

The recipient of four (4) Chicago Headline Club "Peter Lisagor Awards" for Column writing. In November 2006, Hanania was named "Best Ethnic American Columnist" by the New American Media;In 2009, he received the prestigious Sigma Delta Chi Award for Writing from the Society of Professional Journalists. Hananiaalso received two (2) Chicago Stick-o-Type awards from the Chicago Newspaper Guild, and in 1990 was nominated by the Chicago Sun-Times for a Pulitzer Prize for his four-part series on the Palestinian Intifada.

Hanania writes columns for the Southwest Community Newspaper Group including the Des Plaines Valley News, the Southwest News-Herald, the Regional News and the Reporter Newspapers.

Latest posts by RayHananiaINN (see all)