This post has already been read 2943 times!
Morton High school receives National Honors as District of the Year
J. Sterling Morton High School named District of the Year for Advanced Placement by the National College Board in a recent evaluation of more than 6,000 campuses. Morton was selected from more than 450 schools that were credited with AP achievements.
J. Sterling Morton High school District 201 in west suburban Chicago was named "District of the Year" by College Board Advanced Placement, a national education association representing more than 6,000 educational institutions around the country.
Morton was selected from all school districts across the nation that participate in the AP program. More than 21,000 high schools take part in Advanced Placement testing.
Morton High school, which has two campuses in Cicero and in Berwyn, Illinois, has 2,350 students who are currently enrolled in Advanced Placement (AP) classes through the collaboration between College Board and Morton.
"We are very proud of our students and staff and this achievement which once again proves that Morton High school is one of the best educational institutions in the Midwest and Illinois," said the Jeff Pesek, president of the Morton High School Board.
"This award is a reflection of all of their hard work and dedication. District leadership will continue to work hard to ensure that every student continues to succeed."
Trevor Packer, senior vice president of AP and instruction at the College Board, said the award is an important educational achievement.
"This award shows that the teachers and administrators at Morton are challenging students to achieve at the highest levels," Packer said.
"They are succeeding in helping students attain the benefits of the AP Program — to gain confidence, learn to craft effective arguments, earn credit for college, and eventually graduate from college on time. The College Board applauds the district's leadership to ensure that a more diverse population of students is prepared to succeed in college."
College Board is an American private non-profit organization that was formed in December 1899 as the College Entrance Examination Board (CEEB) to expand access to higher education. It runs a membership association of institutions, including over 6,000 schools, colleges, universities and other educational organizations. College Board develops and administers standardized tests and curricula used by K–12 and post-secondary education institutions to promote college-readiness and as part of the college admissions process.
Each year, the College Board helps more than seven million students prepare for a successful transition to college through programs and services in college readiness and college success — including the SAT and the Advanced Placement Program. The organization also serves the education community through research and advocacy on behalf of students, educators and schools.
The competition for placement was intense, Pesek said, but added, "Our students academically are up to the challenge and are proud to showcase their educational abilities."
Of 21,000 high schools that participated in the AP Program this year, Morton was one of 425 school districts across the U.S. and Canada that achieved placement on the annual AP District Honor Roll. From this list, three AP Districts of the Year — one for each category of district population size: small, medium, and large — were selected based on an analysis of three academic years of AP data.
From 2013 to 2015, J. Sterling Morton School District:
Simultaneously and continuously increased the number of students taking AP classes while improving successful outcomes (a score of 3 or higher out of 5 points) on AP Exams, with 33 percent of all AP students scoring a 3 or higher in 2015;
Increased student participation in AP by 19 percent annually and the percentage of students scoring a 3 or higher on at least one AP Exam by 7 percent annually; and
Increased the percentage of traditionally underrepresented minority AP students earning a 3 or higher on at least one AP Exam by 9 percent annually — an increase of 266 students since 2013. (80 percent or more of the AP students in J. Sterling Morton School District is American Indian, African American, or Hispanic/Latino. In addition, over 90 percent or more of the AP students in the district qualify for free or reduced-price lunch.)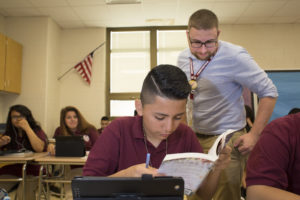 Increasing access to AP course work while simultaneously increasing the percentage of students earning scores of 3 or higher out of 5 points is the ideal scenario for a district's AP program, indicating that the district is successfully preparing a larger array of its students for the rigor of AP and college studies.
Participating in AP course work can also lead to college savings for families because the typical student who scores a 3 or higher on two AP Exams has the potential to save, on average, $1,779 at a public four-year college and over $6,000 at a private institution.
Morton High school was presented with the honor in Anaheim, California during the 2016 AP Annual Conference held this month.
In 2015, more than 3,900 colleges and universities around the world received AP scores for college credit, advanced placement, and/or consideration in the admission process, with many colleges and universities in the U.S. offering credit in one or more subjects for qualifying AP scores.

Ray Hanania is senior blogger for the Illinois News Network news site. He is an award winning former Chicago City Hall political reporter and columnist who covered the beat from 1976 through 1992 (From Mayor Daley to Mayor Daley). And, Hanania is a stubborn and loud critic of the biased mainstream American news media.

Hanania covered Chicago political beats including Chicago City Hall while at the Daily Southtown Newspapers (1976-1985) and later for the Chicago Sun-Times (1985-1992). He published The Villager Community Newspapers covering 12 Southwest suburban regions (1993-1997). Hanania also hosted live political news radio talkshows on WLS AM (1980 - 1991), and also on WBBM FM, WLUP FM, WSBC AM in Chicago, and WNZK AM in Detroit.

The recipient of four (4) Chicago Headline Club "Peter Lisagor Awards" for Column writing. In November 2006, Hanania was named "Best Ethnic American Columnist" by the New American Media;In 2009, he received the prestigious Sigma Delta Chi Award for Writing from the Society of Professional Journalists. Hananiaalso received two (2) Chicago Stick-o-Type awards from the Chicago Newspaper Guild, and in 1990 was nominated by the Chicago Sun-Times for a Pulitzer Prize for his four-part series on the Palestinian Intifada.

Latest posts by RayHananiaINN (see all)