Hypocrisy is the real issue in this election
There is a debate over the language used by some rappers and hip hop artists. And I think that debate is important. But this is bigger than that debate. It cuts to the core of what's really corrupt in the American political system and how insiders manipulate facts and processes to benefit themselves and to harm those who challenge them.
By Ray Hanania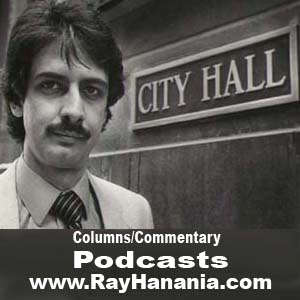 Like many Americans, I was moved by the passion of Michelle Obama. I met her years ago and I know she is the real deal.
But that doesn't mean she can't be a hypocrite when she needs to be. And last week, in delivering a scathing, personal attack on Donald Trump during an appearance for Hillary Clinton at a New Hampshire rally, Michelle Obama was as hypocritical as any politician can be.
Hillary Clinton needs the help. She's a terrible candidate. Which is why she has reduced her own public appearances and has tapped others to pinch hit for her. They include President Barack Obama and Vice President Joe Biden, who, presumably, is reading speeches that were written for him rather than taking them from others. One of the most eloquent surrogates is Michelle Obama.
As an aside, the intensity of the attacks against Trump suggest that Hillary Clinton's campaign advisers and media lackeys are worried that Trump is doing far better than the skewered polls assert.
When Trump complains of a rigged election, it's clear to everyone that he means the bias manner in which the news media is holding his feet to the fire while giving Hillary Clinton and her surrogates a pass.
As they did when Michelle Obama began her bludgeoning of Trump.
The First Lady's assault is based on a key principle that is the foundation of radical extremist Saul Alinsky, who penned the Bible of guerrilla politics, a manifesto on class struggle, "Rules for Radicals."
Alinsky defines 12 principles of the assault against your opponents, and the most potent is to ridicule your foe. The next is to do so unrelentingly. And the final is the belief that if you push a negative attack enough, it will become a positive for you.
Normally if the news media were fair, they would have pointed the hypocrisy of Michelle Obama's attack. But they didn't of course, because most media will not attack Saint Michelle.
Mrs. Obama declared that she is "shaken to her core" by the media quotes attributed to Trump regarding women.
Noting that she just concluded one of her last public events, The International Day of the Girl and Let Girls Learn, she launched into a vicious attack, sighing, "And now, here I am, out on the campaign trail in an election where we have consistently been hearing hurtful, hateful language about women. Language that has been painful for so many of us, not just as women, but as parents trying to protect our children and raise them to be caring, respectful adults, and as citizens who think that our nation's leaders should meet basic standards of human decency."
She added, "The fact is that in this election, we have a candidate for President of the United States who, over the course of his lifetime and the course of this campaign, has said things about women that are so shocking, so demeaning that I simply will not repeat anything here today. And last week, we saw this candidate actually bragging about sexually assaulting women. And I can't believe that I'm saying that a candidate for President of the United States has bragged about sexually assaulting women."
And didn't let up, continuing, "It's that feeling of terror and violation that too many women have felt when someone has grabbed them, or forced himself on them and they've said no but he didn't listen — something that we know happens on college campuses and countless other places every single day."
What Michelle Obama didn't tell the audience in her principled remarks is just a few weeks earlier, at the White House, she and the President hosted a gathering of some of the worst purveyors of sexual predatory language that more directly impact young girls than anything a 70 year old businessman turned politician might say.
Rappers who have been invited repeatedly to the Obama White House include: DJ Khaled, J. Cole, Wale, Ludacris, Nicki Minaj, Alicia Keys, Janelle Monae, Pusha T, Chance The Rapper, Rapsody, Talib Kweli, Busta Rhymes and Lonnie Rashid Lynn, Jr., AKA "Common," whose lyrics include calls to shoot police.
I can't even repeat the lyrics of man of these rappers and hip hop artists. Here is one link with examples of lyrics from Nicki Minaj, one of the whose song lyrics are the least obnoxious. But I still can't publish them. You can read them yourself by clicking here.
Common is the most obnoxious, urging attacks against police. But the rest deliver lyrics filled with contempt for women and young girls, and objectify women in the most disgusting sexual manner. The lyrics are filled with the N-word. And many of the rap songs sing about violence.
What's disturbing isn't just the substance of the discussion. Misogyny, the hatred, contempt or prejudice against women, is as terrible in an election campaign as it is in the lyrics of music. It's the hypocrisy that is worse. Because hypocrisy suggests that things that are bad in one circumstance are not bad in another.
And that is the message Michelle Obama is giving young girls, women and society in general.
It's OK to sing about raping and abusing women, if you are a musician influencing hundreds of millions of people throughout the world, unless, of course, you are a politician they dislike.
I know there is a debate over the language used by some rappers and hip hop artists. And I think that debate is important. But this is bigger than that debate. It cuts to the core of what's really corrupt in the American political system and how insiders manipulate facts and processes to benefit themselves and to harm those who challenge them.
The real issue in this election isn't Hillary Clinton or Donald Trump. It is hypocrisy, double standards, media bias, and bigotry that is the hallmark of an insider establishment system that bends the moral line to fit its selfish agenda.
(Ray Hanania is an award winning former Chicago City Hall reporter and columnist. Email him at [email protected])
Related articles

Ray Hanania is senior blogger for the Illinois News Network news site. He is an award winning former Chicago City Hall political reporter and columnist who covered the beat from 1976 through 1992 (From Mayor Daley to Mayor Daley). And, Hanania is a stubborn and loud critic of the biased mainstream American news media.

Hanania covered Chicago political beats including Chicago City Hall while at the Daily Southtown Newspapers (1976-1985) and later for the Chicago Sun-Times (1985-1992). He published The Villager Community Newspapers covering 12 Southwest suburban regions (1993-1997). Hanania also hosted live political news radio talkshows on WLS AM (1980 - 1991), and also on WBBM FM, WLUP FM, WSBC AM in Chicago, and WNZK AM in Detroit.

The recipient of four (4) Chicago Headline Club "Peter Lisagor Awards" for Column writing. In November 2006, Hanania was named "Best Ethnic American Columnist" by the New American Media;In 2009, he received the prestigious Sigma Delta Chi Award for Writing from the Society of Professional Journalists. Hananiaalso received two (2) Chicago Stick-o-Type awards from the Chicago Newspaper Guild, and in 1990 was nominated by the Chicago Sun-Times for a Pulitzer Prize for his four-part series on the Palestinian Intifada.

Hanania writes columns for the Southwest Community Newspaper Group including the Des Plaines Valley News, the Southwest News-Herald, the Regional News and the Reporter Newspapers.

Latest posts by RayHananiaINN (see all)