Lyons Police Chief Harley Schinker retires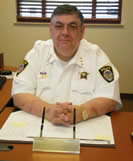 Lyons Police Chief Harley Schinker retired April 4th after serving in the post for four years.
Devoting over four decades to Law Enforcement, Schinker spent 33 years as a member of the Chicago Police Department, working his way up the ranks to Commander before retiring.
Prior to his 2010 appointment in Lyons, Schinker served as the Chief of Police in Long Beach, Mississippi.
"I would like to my express my gratitude to Harley for his service and dedication to the Lyons community," said Lyons Mayor Christopher Getty.
"Schinker was critical to our continued success of maintaining a safe community."
Getty said that the Village will carefully conduct a search for a new police chief that reinforces the commitment to the needs and safety of the residents.
In the interim, Getty said, Village Manager Tom Sheahan will serve as the public safety director assuming the duties of acting police chief until Schinker's permanent replacement can be found.
"Tom Sheahan has proven to be a capable and reliable administrator who knows how to manage our government efficiently and effectively. Until we find the right person to lead our Police Department public safety services, I know Tom's proven commitment to protecting our residents and families will serve us well," Getty said.
###
Related articles


Managing Editor
at
Illinois News Network
Ray Hanania is senior blogger for the Illinois News Network news site. He is an award winning former Chicago City Hall political reporter and columnist who covered the beat from 1976 through 1992 (From Mayor Daley to Mayor Daley). And, Hanania is a stubborn and loud critic of the biased mainstream American news media.

Hanania covered Chicago political beats including Chicago City Hall while at the Daily Southtown Newspapers (1976-1985) and later for the Chicago Sun-Times (1985-1992). He published The Villager Community Newspapers covering 12 Southwest suburban regions (1993-1997). Hanania also hosted live political news radio talkshows on WLS AM (1980 - 1991), and also on WBBM FM, WLUP FM, WSBC AM in Chicago, and WNZK AM in Detroit.

The recipient of four (4) Chicago Headline Club "Peter Lisagor Awards" for Column writing. In November 2006, Hanania was named "Best Ethnic American Columnist" by the New American Media;In 2009, he received the prestigious Sigma Delta Chi Award for Writing from the Society of Professional Journalists. Hananiaalso received two (2) Chicago Stick-o-Type awards from the Chicago Newspaper Guild, and in 1990 was nominated by the Chicago Sun-Times for a Pulitzer Prize for his four-part series on the Palestinian Intifada.