This post has already been read 11943 times!
Why I am fed-up with Sears
I grew up believing that Sears offered the best products and, more importantly, the best service and replacement parts. But that was a long ago time in a long gone world. My last two experiences with Sears have been the worst I have had in years
By Ray Hanania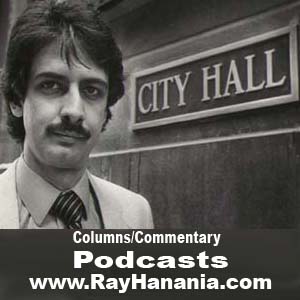 Sears first came to Chicago as a retail department store in 1925 and by the time I came along in the 1950s, it was the go-to place not only for important appliances and home accessories, but also a place to buy clothes and sports equipment like bicycles.
You can almost recite the company's advertising slogans: Make every day a great day; Come see the softer side of Sears; and, The Good life at a Great Price.
So snappy and moving.
But these days, not only have the slogans become stale, but Sears itself has deteriorated almost as fast as the products they sell.
You just can't trust Sears any more.
Last year, in furnishing a summer home, I bought a package of appliances that included a refrigerator, dish washer, stove, and washer and dryer. The costs were nearly $4,000. The refrigerator alone was $1,200. When you pay that much, you expect what you buy to work.
But that doesn't always happen. When the refrigerator failed to work, Sears gave me six months of hassles refusing to replace it, trying to repair it and wanting me to pay. Fortunately, I refused to knuckle under to their pressure and demanded that they replace it with a refrigerator that worked. I finally got it.
We also bought a BBQ Pro grill. It has five burners, including one for a side tray where you can cook beans and other small dishes like a stove.
I liked it. It was stainless steel with a black base. The nice thing about it is the gas ignition. You turn the gas on, and then push the igniter and it would light up without a hassle.
Wow, I thought. Gas grills have improved.
Of course, that was two years ago. No matter how much time I spend carefully cleaning it, using special eco-friendly and food friendly cleaning products, the sad tragedy is that the grill's insides don't last very long.
They quickly rust out. The burners started cracking at the end of the first summer, and created large flame holes during the second year. This year, the steel has so rusted out, I thought, OK, I'll go to sears and buy replacement parts.
The entire grill only cost me nearly $300. But when I went online to order the parts to replace four inside burners, three bars to hold the burners in place, four flame covers and even two new grill bar sections where the food is placed, the price without shipping was $81 more.
Are you kidding me? $381 to replace the insides of a giant barbecue grill that rusted out in two years?
That's the new symbol of "Made in America." Products that don't last. Maybe that should be Sears new slogan.
"We make products that don't last."
Or, how about this one, "Quality products that will force you to replace them in only two years."
Or these variations of Sears old slogans: Make every purchased a rusted purchase; Come see the rusted side of Sears; and, The Short Good life of our products at an Outrageously High Price.
Or maybe, our products are so good and the quality is so high that it will cost you 10 times more to replace any part we already sell you!
Or this slogan, Buy our barbecue grills and enjoy months of fun!
Disgusted with Sears, I looked online for replacement parts and found a Chinese-based manufacturer who sells the parts through eBay. I'm not buying anything through eBay.
The barbecue grill is the essence of America. Millions of wives each year buy BBQ grills for their husbands for their birthdays and even anniversaries. We don't mind it because we LOVE to barbecue. We love to stand there holding the prong and the metal spatula waiting to flip the burgers, turn the hot dogs, brown the bread and char up the steaks.
I've gone through more rotted out barbecue grills than American-made cars that fall apart and break down almost as fast.
Now I have to go shopping again to spend more money to find a grill that I not only like and has all the dials and burners — 4 is ideal with a working ignition — but one that allows you to replace the insides without traveling to China.
This post has already been read 11943 times!

Ray Hanania is an award winning former Chicago City Hall political reporter and columnist who covered the beat from 1976 through 1992 (From Mayor Daley to Mayor Daley).

Hanania covered Chicago political beats including Chicago City Hall while at the Daily Southtown Newspapers (1976-1985) and later for the Chicago Sun-Times (1985-1992).

The recipient of four (4) Chicago Headline Club "Peter Lisagor Awards" for Column writing. In November 2006, Hanania was named "Best Ethnic American Columnist" by the New American Media;In 2009, he received the prestigious Sigma Delta Chi Award for Writing from the Society of Professional Journalists. Hananiaalso received two (2) Chicago Stick-o-Type awards from the Chicago Newspaper Guild, and in 1990 was nominated by the Chicago Sun-Times for a Pulitzer Prize for his four-part series on the Palestinian Intifada.

Latest posts by RayHananiaINN (see all)