This post has already been read 6296 times!
Public services failing to protect consumers
The telephone companies, email services and social media sites like Facebook all can do something to stop consumers from being scammed by identify thieves and con artists. But they don't want to spend the money to do the work that needs to be done to protect us. They can live with 5 percent of us stupidly falling for that idiot who claims to be an IRS agent demanding that you send him money now
By Ray Hanania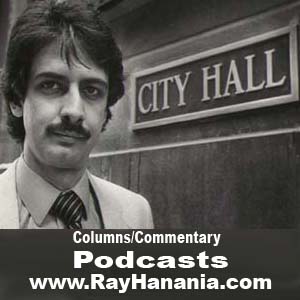 There is a rise in the number of scams on consumers occurring not only as a result of traditional communications but increasing through social media.
The biggest question is not why, but rather, how come the service providers the scammers use to perpetuate these scams are doing nothing to stop them?
Service providers include the telephone services, Facebook, and email. How is it that none of these services are capable of stopping these scams?
The service providers could stop them but they don't want to lose the money they are making.
This is the sad truth, especially for scammers using the telephone system. The telephone companies actually profit from the telephone scams. Every time a call is made by a scammer overseas to a hapless senior citizen in a suburban hamlet, the telephone company is making money.
It's almost like the Mob skimming profits from casino revenues.
The telephone companies don't want to stop the scammers. It would cost them money to make the effort to identify the scammers and shut them down, and it would cost them profits they make from the scammer calls that are made.
Facebook is a little different. They don't profit from people setting up phishing Facebook Pages, but they would lose money if they tried to really stop them.
Every Facebook user is required to verify their account, mostly using a cell phone number. So why are so many scammers targeting millions of Facebook users by posing as "prostitutes" and "whores," or by stealing the photos and names of your existing friends to create duplicate accounts in order to re-friend you.
That's exactly what's happening. The scammers target a Facebook account and duplicate it using the same profile picture, the same name. And then they send "Friend Requests" to the targets existing Friends. In most cases, the targets immediately recognize that the Friend Requests are suspicious because they are already Friends with the people making the request. But about 5 percent of those victimized int he scam, think that the Friend Request is legitimate and they accept them as friends.
What the scammer then does is send a Message using the Fake Facebook Friend account with a file that they urge you to read. When you download it (a .php file or a .exe file or a .zip file), the file automatically downloads into your computer and steals your personal data.
Now, I NEVER download a file from Facebook, just as I NEVER download a file from email unless I am expecting the file and have a back-and-forth communication with the email sender.
How come email systems allow emails to cross through their systems coming from email host providers that allow anonymous and redirected and disguised email naming?
Because it would cost them money to do something about it. The email systems and not being scammed. You are and they don't care about you.
Facebook needs to crack down on new accounts that are created. The process to establish an account of Facebook should be managed better. They collect information already so why not collect data on the cell numbers being used to create the Facebook accounts. And how about not allowing a Facebook Account to operate or send a message until it has been verified?
That way I could spend more time angrily arguing with my "Friends" over President Donald Trump and getting into emotional flame wars all day, rather than wasting my time having to double check why a person who I thought was already my friend is now sending me a friend request?
As for the telephone scammers. There is a fun side to all of it. I love to record their threats and ridiculous grammar-disturbed heavy accents. They can barely speak English and when they start cussing, it's actually funny to hear them say the bad words.
I love to answer the phone calls from out-of-state in which a heavily accented voice threatens me with Federal Imprisonment if I don't send them $1,500 to stop an IRS action to seize my personal finances.
I gin up my own accent and respond in the caller's stupid broken English — it's amazing to me how about 2 percent of phone call recipients take these heavily accented, grammar-broken voice threats so seriously.
(Ray Hanania is an award winning columnist and author, and former Chicago City Hall reporter. He can be reached at rghanania@gmail.com.)
This post has already been read 6296 times!

Ray Hanania is an award winning former Chicago City Hall political reporter and columnist who covered the beat from 1976 through 1992 (From Mayor Daley to Mayor Daley).

Hanania covered Chicago political beats including Chicago City Hall while at the Daily Southtown Newspapers (1976-1985) and later for the Chicago Sun-Times (1985-1992).

The recipient of four (4) Chicago Headline Club "Peter Lisagor Awards" for Column writing. In November 2006, Hanania was named "Best Ethnic American Columnist" by the New American Media;In 2009, he received the prestigious Sigma Delta Chi Award for Writing from the Society of Professional Journalists. Hananiaalso received two (2) Chicago Stick-o-Type awards from the Chicago Newspaper Guild, and in 1990 was nominated by the Chicago Sun-Times for a Pulitzer Prize for his four-part series on the Palestinian Intifada.

Latest posts by RayHananiaINN (see all)