This post has already been read 3638 times!
More Biased Reporting, hypocrisy this time on "slaves"
When former presidential candidate and Secretary of Housing and Urban Development compared "slaves" to "immigrants," he was roundly attacked by the media cabal of anti-Trump haters who look for anything to exaggerate, distort and twist to make the Trump administration look bad. But within a day, people discovered that President Barack Obama did the same thing many years earlier, and the media slowly weaseled the issue off the front pages of media reporting
By Ray Hanania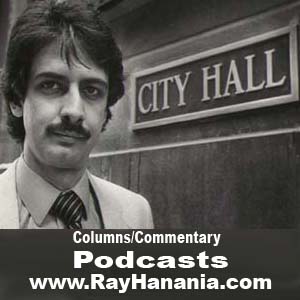 Click here to read the story published at BiasedReporting.com.
Everyday, the biased mainstream American news media demonstrates its hypocrisy in the way it exaggerates criticism against President Donald Trump and spotlights protests from anti-Trump activists and haters.
And in nearly every instance of criticism against Trump, there is much evidence and examples of how someone the news media "loved" had done the exact same thing.
Instead of addressing issues fairly and objectively, the news media has been playing a game of hypocrisy to beat up on Trump and defend Trump's haters. But they can't get a way with it so completely.
Nearly every major news media this week on Television, radio and print, attack Dr. Ben Carson, the US Secretary for Housing and Urban Development for saying that slaves were "immigrants."
Media types across the board expressed shock at Carson's comment, playing into the official news media mantra and playbook that if you express shock at Trump and his administration enough, it makes all the criticism look even more credible and worse.
As he began his appointment as HUD Secretary,  Carson addressed his staff about American idealism and in a passing comment equated slaves to immigrants that drew immediate assault from the mainstream news media like the Los Angeles Times Newspaper and other major newspapers.
Carson told his staff on March 6, "There were other immigrants who came here in the bottom of slave ships, worked even longer, even harder for less. But they too had a dream that one day their sons, daughters, grandsons, granddaughters, great-grandsons, great-granddaughters might pursue prosperity and happiness in this land."
The comments were videotaped and were leaked to the news media resulting in stories attacking Carson and Trump and Trump's policies on immigrants the following day. By March 8 and March 9, media were already tempering their attacks and noting that their Sacred Cow, Obama, had said almost the exact same words.
Within days, many print media adjusted their online attacks to quickly acknowledge that President Obama had said the same thing.
The Los Angeles Times original story was far more critical when it was posted but soon after was edited to play down the criticism and note that Obama had done it, too, posting this shirttail notation at the bottom of their updated and edited story: "Updated on March 8 at 11:20 a.m.: This post has been updated with information about Obama's remarks."
In 2015, during a speech at a naturalization ceremony at the National Archives and Records Administration, Obama discussed the difficulties encountered by those new to the United States.
"Life in America was not always easy. It wasn't always easy for new immigrants," an ABC TV news report quoted Obama from 2015. "Certainly, it wasn't easy for those of African heritage who had not come here voluntarily and yet in their own way were immigrants themselves. There was discrimination and hardship and poverty."
Carson was roundly and viciously attacked by critics, including from many African American community leaders, forcing him to publish this comment on his Facebook Page:
"I'm proud of the courage and perseverance of Black Americans and their incomprehensible struggle from slavery to freedom. I'm proud that our ancestors overcame the evil and repression that we know as slavery.
"The slave narrative and immigrant narrative are two entirely different experiences. Slaves were ripped from their families and their homes and forced against their will after being sold into slavery by slave traders.
"The Immigrants made the choice to come to America. They saw this country as a land of opportunity. In contrast, slaves were forced here against their will and lost all their opportunities. We continue to live with that legacy.
"The two experiences should never be intertwined, nor forgotten, as we demand the necessary progress towards an America that's inclusive and provides access to equal opportunity for all.
"We should revel in the fact that although we got here through different routes, we have many things in common now that should unite us in our mission to have a land where there is liberty and justice for all.
"Dr. Ben Carson
"Secretary of HUD"
Celebrity anti-Trump haters like Whoopie Goldberg joined in the "Lord of the Flies" chants for Carson's head.
The New York Times, which is routinely anti-Trump and biased, wrote immediately after the remarks were leaked to the press on March 6, "The comparison was first reported by USA Today and quickly drew the ire of social media users who attacked the secretary, who is African-American, for what they saw as racially insensitive comments. On Twitter, the comedian and actress Whoopi Goldberg recommended Mr. Carson watch the 1980s mini-series "Roots."
New York Times Trump-critic Liam Stack began his story, writing, "Ben Carson's first full week as secretary of Housing and Urban Development got off to a rough start on Monday after he described African slaves as "immigrants" during his first speech to hundreds of assembled department employees. The remark, which came as part of a 40-minute address on the theme of America as "a land of dreams and opportunity," was met with swift outrage online."
His story quickly piled on top of the original USA attack story and became the basis for the furor that followed.
It's disgraceful how the news media applies two standards to politicians they love and politicians they hate.
This is just one example of the bias reporting of the news media and how the hypocrite activists are using the media lies to distort the policies and the intent of the Trump administration.
The news media is the enemy of the American People. This is just another example of how that fact is so true.
(Ray Hanania is an award winning columnist and author. He is a former Chicago City Hall political reporter and columnist — 1976-1992 — and can be reached at rghanania@gmail.com.)
This post has already been read 3638 times!

Ray Hanania is an award winning former Chicago City Hall political reporter and columnist who covered the beat from 1976 through 1992 (From Mayor Daley to Mayor Daley).

Hanania covered Chicago political beats including Chicago City Hall while at the Daily Southtown Newspapers (1976-1985) and later for the Chicago Sun-Times (1985-1992).

The recipient of four (4) Chicago Headline Club "Peter Lisagor Awards" for Column writing. In November 2006, Hanania was named "Best Ethnic American Columnist" by the New American Media;In 2009, he received the prestigious Sigma Delta Chi Award for Writing from the Society of Professional Journalists. Hananiaalso received two (2) Chicago Stick-o-Type awards from the Chicago Newspaper Guild, and in 1990 was nominated by the Chicago Sun-Times for a Pulitzer Prize for his four-part series on the Palestinian Intifada.

Latest posts by RayHananiaINN (see all)