This post has already been read 5560 times!
3rd Annual Anti-Bullying Community Walk in Orland Park Saturday Oct 3rd. The 3rd Annual Anti-Bullying Walk in Orland Park on Saturday October 3 encouraged students to eliminate bullying
By Steve Neuhaus
Over 300 supporters participated on a chilly October Saturday morning in Orland Park for the 3rd Annual Anti-Bullying Community Walk. The event began and ended at the Franklin Loebe Center at the Orland Park Village Center.
Century Jr. High student Nicole Lundgren walking with several of her family members for the cause agreed that bullying is a serious issue and it needs to stop.
Lundgren also added "the Bridge Teen Center is awesome for organizing today's event".
Following the 1.5 mile walk participants were treated to free food at the post-walk celebration.
All proceeds from the event supported the free holistic programs at The Bridge Teen Center, which combat bullying on a daily basis.
Priscilla and Rob Steinmetz Founders of The Orland Park Bridge Teen Center, along with Orland Park Mayor Dan McLaughlin were on hand and thanked everyone for their support.
You can learn more about the programs the Bridge Teen Center has to offer by clicking here.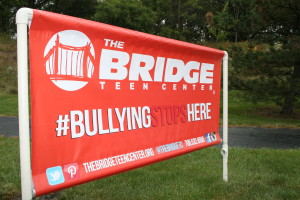 This post has already been read 5560 times!
Freelance news photographer, writer, live stream videographer for Illinois News Network.
You may reach Steve by email: steveneuhaus60@gmail.com and follow him on twitter @steveneuhaus60


Latest posts by Steve Neuhaus (see all)