This post has already been read 6017 times!
ComEd and municipal confusion grows faster than bills with aggregation
By Ray Hanania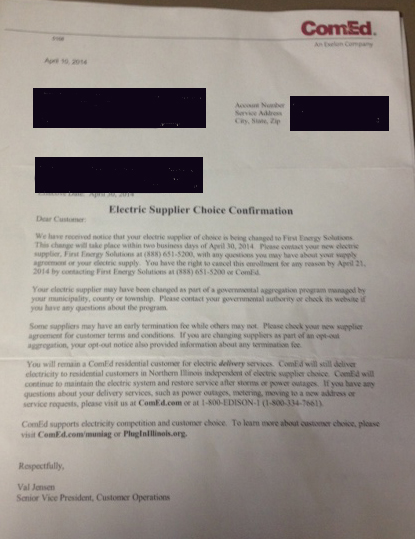 For many years, ComEd was the consumer's boogeyman, the stepchild of an even bigger boogeyman, Exelon.
The relationship fueled consumer skepticism about the big-bad utility company, all a part of a financial shell game where Exelon spit-off ComEd as the poverty-stricken step-child, while Exelon played a less than likeable Daddy Warbucks.
The whole stinking mess made it so easy to hate ComEd and to hate the mega-wealthy robber baron Exelon.
I never thought that someone might step in a make them look good. But that's exactly what has happened when local villages started to step in and take over electrical service.
I don't completely understand the complex world of "electrical aggregation." But clearly, there's something wrong with this picture and I haven't put my finger on it.
But it has made me feel a lot of remorse and empathy for ComEd and even His Majesty Exelon, something I never thought would happen.
My wife had to remind me that about a year ago, the Village of Orland Park where I lived switched us from ComEd as our electrical supplier to a new company. I honestly don't know who they are. If you asked me their name, I couldn't tell you.
The bills still come from ComEd "An Exelon Company."
Last week, I received a letter on ComEd stationary. I thought the bill was out-of-sequence as it was too early in the month to receive the utility bill.
The April 10 letter was titled "Electric Supplier Choice Confirmation." The ComEd letter explained that ComEd has received notice that my electric supplier of choice is being changed to First Energy Solutions.
If I have questions about my service, call them.
The letter reiterated that ComEd continues to be the company that delivers my electricity, and the billings. And I should go to them to ask about power outages that frequently occur in the Chicagoland suburban communities.
Whatever. I didn't know why I just didn't toss the bill, but it remained on the pile of letters I get on my dining room table next to my MAC Book Pro, which has long ago replaced the family dinner. (The Wireless comes in strong right above where the soup bowl would usually sit on the table.)
And like the bureaucracy we have come to expect from government, one week later, I received a letter dated April 17, with a slightly modified headline that read "Electric Supplier Choice – Confirmation of Rescind."
What? Last week it was a "Choice Confirmation." This week it is a "Rescind?"
In far fewer words, and even less enthusiasm, the letter on the ComEd stationary told me that they were notified that they received my request to "rescind (cancel)" – they even put the definition of rescind in parenthesis just in case I am an idiot.
My "current electric supplier," it said would continue to provide my electric supply. It didn't say who my current electric supplier is, so I am back to square one again.
I called ComEd, and after punching one button to select English as my language, I then had to listen and dive down through five more layers of telephone options before getting a live voice, a woman who was very polite and wasn't an outsourced foreigner in India or Afghanistan or Iraq. (Oh, you didn't know Halliburton has gotten into the help line outsourcing business, now that they own Iraq?)
I had to go back and call The Village of Orland Park, she said. We both got a chuckle. She was probably relieved, too, because usually ComEd gets blamed for everything, and this time it wasn't their fault. (The media is putting the blame on them, of course.) I imagine that once everything is explained, she doesn't have to catch the butt-end that the grief-stricken callers are dissing in response to the letters.
So I tried calling the Village but I got nowhere. I got moved from one place to another. At least when it was ComEd running things and being the focus of my anger, I knew where to go.
Now that it's the village, its awakened a sleeping giant. I'm mad at Orland because they scrambled up a decade-long promise to rebate our village property taxes in exchange for the 1 cent sales tax increase. We no longer get it all back. LaGrange Road, which has been widened, is still like sitting in a row boat on a river of molasses.
In this case, I can't blame ComEd, although news reports have put the focus on the "ComEd Letters." (What ever happened to the notion of don't blame the messenger? Clearly, ComEd is the messenger in this information fiasco.)
Well, at least it's better than Orland Township, where I hear little to nothing. I have no idea what they do.
I guess everything in government is relative. Oh crap. The lights just went out (Just joking). I gotta go.
(Ray Hanania is an award winning former Chicago City Hall reporter and political columnist. He is the editor of The Illinois News Network online at www.IllinoisNewsNetwork.com.)
Related articles
This post has already been read 6017 times!

Ray Hanania is an award winning former Chicago City Hall political reporter and columnist who covered the beat from 1976 through 1992 (From Mayor Daley to Mayor Daley).

Hanania covered Chicago political beats including Chicago City Hall while at the Daily Southtown Newspapers (1976-1985) and later for the Chicago Sun-Times (1985-1992).

The recipient of four (4) Chicago Headline Club "Peter Lisagor Awards" for Column writing. In November 2006, Hanania was named "Best Ethnic American Columnist" by the New American Media;In 2009, he received the prestigious Sigma Delta Chi Award for Writing from the Society of Professional Journalists. Hananiaalso received two (2) Chicago Stick-o-Type awards from the Chicago Newspaper Guild, and in 1990 was nominated by the Chicago Sun-Times for a Pulitzer Prize for his four-part series on the Palestinian Intifada.

Latest posts by RayHananiaINN (see all)