This post has already been read 5915 times!
Religious leaders join St. George Antiochian Orthodox Church to Commemorate 20th Anniversary of Weeping Icon of the Virgin Mary Tuesday April 22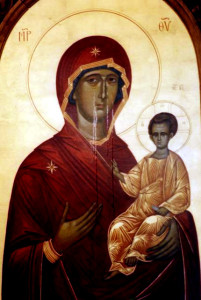 Religious leaders from the Orthodox Christian Churches will come together Tuesday night April 22 to commemorate the discovery of the Icon of the Virgin Mary that began tearing/weeping 20 years ago.
Parishioners at St. George Antiochian Orthodox Church, 1220 S. 60th Court in Cicero, noticed that an Icon of the Virgin Mary began tearing, first with one tear and later by the end of the night with four separate tears. The tears were dabbed in with cotton and mixed with oil which was distributed to more than 1,000 Christian Churches around the world, and 100,000 cotton swabs given to visitors that have numbered more than 1 million in the past 20 years.
Economos Pastor Nicholas Dahdal will join Antiochian Orthodox Bishop Anthony who will preside over the commemoration which begins at 6:30 pm, exactly 20 years from when the weeping Icon was discovered at the Church. Celebrations will continue through the following day, Wednesday April 23.
Father Dahdal said that the Weeping Icon of the Virgin Mary has been of particular significance to Mexican Americans who revere the Virgin Mary.
For more information, contact Economos Father Nichola Dahdal at 708-656-2927.
St George Antiochian Orthodox Church
1220 S. 60th Ct.
Cicero, IL  60804
Related articles
This post has already been read 5915 times!

Ray Hanania is an award winning former Chicago City Hall political reporter and columnist who covered the beat from 1976 through 1992 (From Mayor Daley to Mayor Daley).

Hanania covered Chicago political beats including Chicago City Hall while at the Daily Southtown Newspapers (1976-1985) and later for the Chicago Sun-Times (1985-1992).

The recipient of four (4) Chicago Headline Club "Peter Lisagor Awards" for Column writing. In November 2006, Hanania was named "Best Ethnic American Columnist" by the New American Media;In 2009, he received the prestigious Sigma Delta Chi Award for Writing from the Society of Professional Journalists. Hananiaalso received two (2) Chicago Stick-o-Type awards from the Chicago Newspaper Guild, and in 1990 was nominated by the Chicago Sun-Times for a Pulitzer Prize for his four-part series on the Palestinian Intifada.

Latest posts by RayHananiaINN (see all)