This post has already been read 4302 times!
Rauner ignites crowd at Gorman organized rally
By Ray Hanania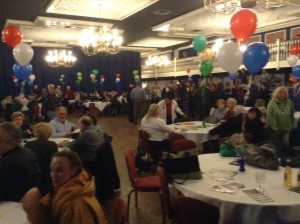 More than 500 supporters attended a rally at the Lexington House banquet Hall on 95th Street Monday night, St. Patrick's Day, organized by Cook County Commissioner Elizabeth "Liz" Doody Gorman on behalf of gubernatorial candidate Bruce Rauner.
Supporters packed the room as Gorman introduced leading members of the Cook County Republican Organizations including Cook County GOP Chairman Aaron Del Mar, Palos Republican Committeeman Sean Morrison, and other Republican officials from the region. Rauner had the crowd on their feet as he walked in like a rock star at a Rolling Stone's concert to music, lights, and a crowd of television news media reporters.
He continued his pummeling of Democratic Gov. Pat Quinn, who many are saying is losing momentum and will have a tough fight on his hands to hold his office in November. Rauner has surfaced above a crowded field of qualified Republican rivals including State Treasurer Dan Rutherford, State Sen.Kirk Dillard and State Senator Bill Brady.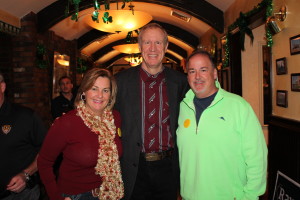 Gorman was duking it out with rival Barbara Bellar during the past few days as Bellar turned to controversial former Cook County Commissioner Tony Peraica, who did a robocall blasting Gorman in a mumbled voice that many described as laughable. And Bellar, the darling of the Tea Party extremists, claimed in her own robocall that she was the "Republican" endorsed candidate for the Cook County Board seat which Gorman has held form 12 years. Gorman pounded Peraica in her own robocall and brushed off Bellar as "nothing more than nun-sense," alluding to Bellar's false claims that she was a former nun.
But while Brady, Dillard and Rutherford concentrated their punches against Rauner, Rauner focused his powerful right hooks at Quinn, even though the General Election is seven months away. Here's the video. Ray Hanania, http://www.OrlandParker.com, http://www.SuburbanChicagoland.com, http://www.IllinoisNewsNetwork.com
Here's the video:
(Ray Hanania is an award winning for Chicago City Hall reporter and columnist. He is the managing editor of the Illinois News Network at www.IllinoisNewsNetwork.com.)
Related articles
This post has already been read 4302 times!

Ray Hanania is an award winning former Chicago City Hall political reporter and columnist who covered the beat from 1976 through 1992 (From Mayor Daley to Mayor Daley).

Hanania covered Chicago political beats including Chicago City Hall while at the Daily Southtown Newspapers (1976-1985) and later for the Chicago Sun-Times (1985-1992).

The recipient of four (4) Chicago Headline Club "Peter Lisagor Awards" for Column writing. In November 2006, Hanania was named "Best Ethnic American Columnist" by the New American Media;In 2009, he received the prestigious Sigma Delta Chi Award for Writing from the Society of Professional Journalists. Hananiaalso received two (2) Chicago Stick-o-Type awards from the Chicago Newspaper Guild, and in 1990 was nominated by the Chicago Sun-Times for a Pulitzer Prize for his four-part series on the Palestinian Intifada.

Latest posts by RayHananiaINN (see all)